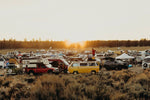 Last September I had the chance to be able to attend Descend on Bend for the first time, for those that never heard of the event, it's a humble gathering of vans and van-folk celebrating the idea of humans being, in other words, it's a unique gathering of travelers, van lifer,  campers and exploration vehicle lovers happening every year outside of Bend Oregon.
The trip:
Living in Seattle, the Oregon outback is a small 6 hrs away, IF you take the fastest roads and you have a reliable and powerful vehicle,
My bus is a 1973 VW late bay transporter that I carefully transformed into a camper with a water-cooled Ford engine transplant, sounds cool indeed, but as you can imagine, it's not always as reliable as a modern ride...and that's half of the fun if you ask me.
So I took my time to drive there and made sure the trip went without too much trouble. I had the chance to take a break halfway in Mount hood national forest and woke up in wonderland. Then it was time to hit the road again and finally Descend on bend .
The spirit:
Descend on Bend is an annual gathering of like-minded, life-loving folk. It's a true celebration all things outdoors, the live music is heartwarming, the folks that attend this event are welcoming and fun and the spot where everything happens is wild and open.
This is a truly unique event you have to attend if you love to share stories and spend a good amount of time with likeminded travelers and meet a bunch of new awesome friends in a relaxed, fun and adventurous atmosphere. 
The people:
As I said, the people that do 'Descent on bend' are truly the best of humankind, you can meet all sorts of travelers during this event: families, small children, solo travelers, groups of bus/van owners and adventurers/campers like us.
The love of their vehicle ( home or weekender) and the true need to live life and enjoy the outdoor is a common and shared passion here.
[those 2 photos come from the Descend on bend website, all other pictures are mine.]
During this three day event, I had the opportunity to meet countless gold souls and finally meet some of the people that I had the pleasure to follow along for a while on Instagram ( des fenetres sur le monde,http://www.desfenetressurlemonde.com/ ) , I also met new friends that I had the pleasure to see later on this year ( funwagen https://www.instagram.com/funwagen/ ) and i had the pleasure to finally see in person our very first client ( and friend now ) autobahn coffee https://www.autobahncoffee.com/ rocking the #vanshelf for his coffee business. Thanks, for being or very first and loyal customer, can't wait to develop more products and evolve the one we already have based on your awesome feedback.
The First Time effect;
After a long, beautiful and solo trip from Seattle to Bend, I finally reach the WELCOME TO DESCENT arch: after being greeted by 2 lovely folks (volunteers) that pointed me to the "path" to the event, I had the chance to cross path with Dave from Vanagonlife https://www.vanagonlife.com/(one of the organizers of this event ) and we exchanged some good vibes and jokes from our windows.
Finding our camp was easy, one of the first camp when you pass the final greeters, our camp was luckily placed under couple trees (which turned out to be a real plus) It was a very good thing to have additional shade during those hot sunny days in this part of Oregon.
The place is wide open and you are able to choose wherever you want to be parked, but we were lucky to score this spot right on top of the 'waterslide'   ( Thanks to Seth and the Seattle team) 
Our camp is mainly composed of lovely folks coming from Seattle. We call our group;  'midtown van club' a non-official club with no other benefits than a name and couple stickers apart from knowing each other and loving our Vans. Our fearless leader Seth keeping the spirit high and securing a sweet spot for us by arriving pretty early on.
My first impression was pure amazement, seeing the size of the gathering and the number of vehicles already parked was making me giggle while driving the last 100 meters. I did not settle right away, I took a joy ride around the event to get a feel for space and wow !! I was blown away by the size and spirit of this thing, this started to feel like a home away from home already.
I started to recognize things I've seen on previous photos and videos before...There was the HUGE tipi! there was the massive firepit, the gigantic pile of firewood ready to be picked up and thrown into those 3 or 4 dedicated spots to make fire, here was the music stage, three really cool busses parked being setting up the scene... the place looked like it has a heart, a village center a place to gather at night or during the day and I couldn't wait to experience what this event had to offer. 
Setting-up was easy and pleasant and I felt comfortable after 5 minutes of being settled at our camp.
Right away, I took my minibike to explore even more and see what the hole in the ground was all about 
The hole in the ground ;
After riding my minibike for 5 minutes from our camp to the border of the Hole I witnessed what this place was all about...
A pit, a crater, a huge Bowl, whatever you call it, this hole is humongous and beautifully impressive, a space where time stops, at least my internal clock for at least a minute ... where the sound is different, something like I've never seen before.
A hole with nothing, except dust, some high desert vegetation and trees all around, but what a breathtaking beauty!
From the periphery of it, it truly looked like a massive meteorite felt ages ago (it's actually a volcanic explosion crater) https://en.wikipedia.org/wiki/Hole-in-the-Ground and left this beautiful perfect circle in place for us to play in because that was the point...
Later during the event, the synchro run would rally up a bunch of participants and bring any vehicles capable of offroading down the pit in a beautiful descent together.
A moment to remember, where the excitement and the cheerfulness of everybody was at the top, celebrating the outdoor, the experience, the moment, then later on bringing up the show with a "jump" contest.
The vehicles: 
So many rigs, so many amazing vehicles, it was truly beautiful to see what people drove, where people live yearly, how travelers and campers evolved and tricked out their vehicle to cover their every need.
Regarding the type of vehicles that are welcome to this event, the answer is simple .. EVERY TYPE OF VEHICLE IS WELCOME
Everything I've seen there ranged from classics( VW bus campers, Synchro , Chevy van, Astros, Delicas, etc ) to bigger rigs ( Full on RV, School buses, Huge buses ) but also many interesting mid-size and "mutant" exploration vehicles ( jeep or trucks with cargo tent, cars with a rooftop tent, to tricked out old ambulances, and even 6 wheelers army vehicles )
A very refreshing take on those campouts or 'shows' were only one type of vehicle is represented, a whole array of purposefully build rigs that truly represent each and everyone's needs, taste, and daily life.
I've always been passionate about VW vehicles from day one, and this place was HEAVEN for VW bus and SYNCHROs ... not the prettiest, not the shiniest, but the most purposefully built ones, the ones that drives, the ones that carry a whole family for weeks, the ones that you can cook in for days, the one that transports people from one coast to the other and beyond. 
Most of my pictures here are VW but let me tell you, there were probably around 900 vehicles that pass through this 4 days event. 
The environment:
Hot, it was hot...and cold at night.
I arrived a day later than everybody, and apparently there was a massive rain the previous day, but I cannot speak about it and couldn't even see a trace of it.
As my experience, the Sun was out early and was bright, having access to shade was a real luxury during the day, since our spot was under a tree, a bunch of people ended up staying at our spot to grab a little bit of fresh air and grab a cold one while chatting about life and cracking jokes, such a good time.
There is a lot more shaded spot all around the space, but those tend to fill pretty fast and early arrival is something to plan ahead if you cannot stand the heat or have no shade structure attached to your rig. 
At night, it gets pretty cold, this type of wide-open spaces cool down pretty fast, but the fires are plenty, comforting small fire pit or massive central FIrepit were bringing people together to dance and chat around.
(at this time of the year, (fire ban) DOB was the only authorized spot to get open fire in Oregon, Safety of attendant and respect of the environment is their priority, everything was planned to have a safe and nondestructive event while keeping the Joy and warmth of fire alive)  they are a "leave no Trace" event and they are very serious about it. 
Regarding amenities and comfort, the lovely folks that throw this event every year provided a ton of toilets for us to use, as well as access to hot showers and freshwater if you were in need of it. Ice was available for purchase as well as coffee and a couple of other vendors were selling wine, lamps and other essentials. Some sponsors were also providing a ton of various flared water, caffeinated water and beers for us to enjoy during the many get together mini-events ( workshop, Talks, barbecue, makers market) 
The music:
The music is entirely part of this event, there are concerts at night with live bands, people are dancing, singing along, enjoying themselves, the sound quality was great and the bands were literally killing it, folk singer, grassroots, banjo, violin, guitar, you name it, even a couple of fire juggler showed at the end of the last concert. 
After hours the spirit was still on around the firepit with people bringing their instruments or in The tipi with a central ongoing fire, where I witnessed 2 impromptu and amazing concerts from folks playing together and gathering a fun crowd.
The food ;
For this event, pretty much everybody brought their own food and i've witnessed a lot of sharing and gathering of folks cooking and dining together, but there are 3 highlights regarding food during this event : 
The Friday night potluck,
where everybody brings a dish to share, a great moment to meet new people, taste amazing food usually made on-site in everybody's van kitchen setup, and another reason to sit down and enjoy life with likeminded individuals. 
The salsa/chili challenge ...
It's all in the title, bring your tomatoes, avocados, spices, beans whatever you want and share the love with others, don't forget to bring some good ice-cold beverages to wash down that spicy goodness. good times ahead for sure. 
The free and amazing Barbecue night:
Dave from Vanagonlife created the world largest Santa maria grill for this event :), you have to see the amount of food they serve for this barbecue, it's crazy, sausages, potatoes, veggies, and meatless options it's all in there, and so delicious >
I had such a great time chatting in the line, waiting for those amazing treats and the food was warm, tasty and delicious.
I was blown away by the organization, the spirit around this event, the work of volunteers to set it up, cook, serve, clean up and entertain a joyful and collaborative spirit.
I cannot wait to go back and do it again, probably volunteer this time around and give back to this amazing community. 
You can check my video to get a feel for it, but trust me, you have to experience it if you are just even attracted by what I shared with you, this place is different, it's truly a people event, made by great peeps for great peeps. Thanks again for organizing such heart-warming gathering, let's hope this will continue for a long time. 
Will YOU descend on bend ???
https://www.descendonbend.com/