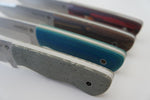 For our first collaboration, we partnered with knifemaker Randy Wirtz,  at Wirtzmade 
A PNW based knifemaker, a truly passionate and detail-oriented craftsman.
Randy accepted the challenge to create with us a very limited and special edition of his flagship knife for our customers, the goal of this project was to explore the relationship between the explorer, the ever-changing environment and the tools that we use and cherish while camping and traveling. 
Our goal was simple, create a collection of 4 unique knives that would each represent one of the 4 elements.
This is where the conversation started, colors, materials, design, how could we represent those elements in a simple modern and elegant way while providing a very unique and qualitative product that you will use, abuse and love. 
Leafted has been exploring and inspired since day one by the inherent quality of materials. the way they age, the properties they gain when exposed to high heat or freezing temperature, the patina they develop over time, etc, we truly believe in creating  products that will stay with you for a very long time, product of heirloom quality.,
This product development and collaboration was also a great way for us to learn some basic principles of knife making and the necessary steps to create a quality product out of simple materials.
 We will document here Randy's process and will provide as much info as possible on the many steps that made those knife really strong and qualitative.
But first, Why the 4 elements ?
The ancient Greeks believed that there were four elements that everything was made up of earth, water, air, and fire.
The idea that these four elements made up all matter was the cornerstone of philosophy, science, and medicine for two thousand years.
In modern days the four elements do align with the four states of matter that modern science has agreed on: solid (earth), liquid (water), gas (air), and plasma (fire).
In a parallel way and for Millennia, the four principal elements –earth, air, fire, water -were believed fundamentally vital. These elements were not just material substances but key spiritual essences, bringing meaning and illumination to life 
Camping and being outdoor is for us a way to balance things out, a way to re-fuel and relax while staying active and respecting the elements surrounding us.
Representing the 4 elements through a series of 4 unique outdoor tools, was a way for us to provide not only a very unique product aesthetic /story but a very subtle reminder of the simplicity and richness of what surrounds us in the great outdoors.
why a Field knife ?
What is a field knife ? you may ask ..
The field knife is intended for making camp/shelter/fire starter. it's also intended for light chopping, prying and digging and sustain a pretty good amount of abuse compared to a pocket knife, or a kitchen knife. while those specific knife are generally used for bushcraft afficionados and serious explorers, they can also be used to cut veggies, sharpening wood sticks or cut whatever you decide to throw on a barbecue. basically a knife that can do it all. 
A field knife ( the good kind)  has also the particularity to be full tang : The term full tang means that the knife is one solid piece and the 2 handle pieces are pinned on to the blade, one on each side. This is the strongest of the tang types .
The design process 
Once Randy accepted the challenge, we landed on his proprietary "falcon" design as the most appropriate and capable for this type of activity.
We approached Randy for the cleanliness of his work, the attention to details and the perfect proportions of his creations. We decided to get rid of the thumb details to keep that line as clean as possible and get closer to the look of a clean Kitchen knife while keeping all the characteristics and great lines of Randy's design.
We also decided to hide the front pin under the handle and replace the back one with an eyelet to be able to pass a chord through it. All those design details were directly looking at simplifying the visual complexity of the knife while keeping all of what makes Randy's original design unique and efficient.
While the idea was simple, the material choice for the Handle and the small details that would make this collaboration truly unique was a very important step.
Not all metals are born equal 
When you buy a knife, you really want to make sure you know what type of metal has been used, if it went under a special hardening treatment , you want ta reliable and safe tool that you can count on.
While we are not going to showcase every metal available to make a knife in this post, Randy's choice for the Falcon was to use CPM 154  then to harden this material with a high heat treatment followed directly by a sub-zero blade treatment.
"154CM stainless steel has long been a sought-after metal for knife makers. It is really a jack of all trades metal that can be worked easily, yet retains its characteristics of chip resistance, edge retention, corrosion resistance, and ease of sharpening .Those manufacturers that use CPM 154 have recognized this steel for making a great blade that checks all of the boxes consumers and collectors alike share. It begins with a very good steel, 154CM, and really takes to the next level in terms of workability and usability. To be sure, CPM 154 will be around for a very long time in knives of every application. Try one of these knives and you may just be a fan for life!" knifeup.com
Hardening and shaping metal 
 Randy used a process called sub-zero treatment after shaping his blades, which consist of exposing the metal to extremely cold /extremely hot temperature ( you can see the process in our video )
the blade will go through multiple processes ( including cutting, hardening,stone washing,polishing ,branding and sharpening .
The scale material ( handles ) 
The handle material is called Scales .
Choosing a material that would withstand use and abuse, the occasional rain or water bath ( have you ever left a wood knife in soapy dishes water for a while ?)  while providing enough visual richness to represent 4 distinct elements (  try to make a handle out of thin air or fire anyone ? ) 
We decided to use " Greg Hansen Sr proprietary material , the Gcarta.
A very unique take on the old process of making Micarta (resins are used to impregnate paper and cotton fabric which are cured under pressure and high temperature to produce laminates)
Gcarta is a material meticulously made out of duck cotton, layers and layers of it 70) , then pressed and formed under high temperature into a solid brick. the particularity of Gcarta vs Micarta is Anderson's unique way of folding and placing cotton to create truly unique and limited edition pieces. Those bricks are then  cutted,shaped and polished  into handles or other various objects.
This material was chosen for its visual richness and it's an inherent quality to create a knife that would be able to sustain everyday use and abuse in and out of a camper van . 
Shaping the scales 
Randy is a very hand-on craftsman, after cutting a dimension-correct block,he uses a hand lath to shave the scale to the right thickness, 
He then procceed to the assembly of the liner and scale material, making sure the grain or colors will align perfectly .
Then the process of sculting starts, by following his own visual blueprint, the shape of the handle start to emerge, frst in 2d , then in 3d, every detail count and the attention to detail is crucial.
After several sanding and polishing steps the handle is finally there, perfectly shaped for a control grip, precisely aligned for visual balance, and polished to a satin shine to reveal the Gcarta intricate design .
Devil is in the details 
If you look carefully , the lines of the Falcon field knife are not just elegant, but also balanced and visually strong.
A knife is more than a tool , it's a companion, a tool you need to trust and take care of .
There is two pines that hold the blade to the handle, we decide to hide one under the material to clean up the design and to have the other pin hollow , to allow a strap attachement .
The goal for this knife was to create a reliable tool first and foremost, but the backstory is what drove this project to the finish line, the relationship between the tool, the user and the surrounding environment.
The final product is more than just a tool, it is a labor of love, made by a highly skilled craftstman that will carry a unique story and will last a lifetime .
SPECIFICATIONS
• Steel Type: Nitro-V Stainless
• Blade Style: Drop Point
• Blade Grind: Flat
• Overall Length: 7.5"
• Blade Length: 3.75"
• Thickness: .125"
• Rockwell Hardness: 60-61
• Finish: Stonewash
• Handle material: Micarta/G-10